KEMET's Press-Fit Aluminum Electrolytic Capacitors

(Greenville, SC: March 5, 2018) – Designed to eliminate various soldering process problems, the Press-Fit Aluminum Electrolytic Capacitors from KEMET promise excellent surge voltage capability, reliable electrical contacts, quick exchange of components, high ripple current, and a compact size while adhering to the BS EN 60352-5:2012 standard. KEMET Press-Fit devices are rated to 10 g with the capacitor clamped by the body. The vibration performance of the Press-Fit pins are equal to the performance of soldered snap-in terminals. Applications for these capacitors include:
Uninterruptible Power Supply (UPS)
Switch Mode Power Supplies (SMPS)
Smoothing
Energy storage
Demanding power supplies
Frequency inverters
Electrical/Physical Characteristics
Series
Case Sizes
Tolerances
Dielectric
Temperature Range
Voltage Options
Capacitance Values
ALF20
35, 40, 45, and 50 mm diameter, 30 to 105 mm length
+/- 20%
Aluminum Electrolytic
–40°C to +85°C
35 - 600 VDC
150 - 100,000 µF
ALF40
–40°C to +105°C
25 - 500 VDC
120 - 120,000 µF
Printed Circuit Board (PCB) Requirements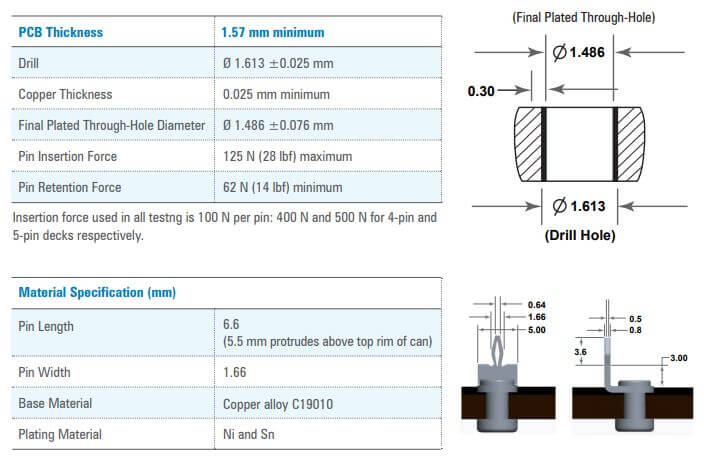 Product Information
For more information about this product, please contact us.