AVX's Antenna PowerGuard Products Provide Reliable ESD Protection in Capacitance-Sensitive Applications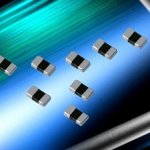 (Fountain Inn, SC: July 19, 2017) – As a leader in circuit protection products, AVX continuously strives to meet market demands by improving current product and developing new products. In keeping with this tradition, AVX announces the release of the new Antenna PowerGuard™ Varistor.
Antenna PowerGuard Series varistors, an ultralow capacitance extension of its reliable AntennaGuard range with new voltage, capacitance, and energy ratings. Antenna PowerGuard Series varistors exhibit high current and energy handling capabilities, low insertion loss, low leakage current, and unsurpassed reliability compared to diode options.
These advantages, combined with AEC-Q200 qualification, bidirectional overvoltage protection, EMI/RFI attenuation, fast response times (<1nS), and multi-strike capabilities make the small SMT packaged series ideal for use in RF and optic circuit, sensor, high-speed and data line, antenna, radar, Bluetooth®, Ethernet, and other capacitance-sensitive applications across the automotive, industrial, and commercial markets.
Features/Benefits
AEC-Q200 Qualified
Very Low Capacitance
Low insertion loss
25kV ESD rating
RoHS Compliant
Product Information
For more information about Antenna PowerGuard™ Varistor, please contact us.