New 65 A and 100 A Solar Application Relays from American Zettler
American Zettler adds new products to its line-up of Solar Relays
(Aliso Viejo, CA: October 17, 2017) – The proliferation of the marketplace for solar inverters keeps forcing engineers to do more with less. Among other things, that means switching more current and higher voltages on increasingly smaller footprint dimensions. As a leader in the development of relays for solar inverter applications, Zettler Group continues to step up to the challenge, now adding the AZSR165 and the AZSR190 series to its AC solar relay line-up.
With a footprint of only 38mm x 33mm, the AZSR165 and AZSR190 bring high capacity switching into a compact PCB package.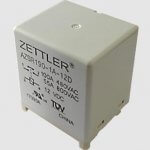 The AZSR165 has a maximum UL switch rating of 80A@540VAC and a TUV rating of 80A@690VAC. It features a 3.0mm contact gap, a 4,000 Vrms dielectric strength, and a minimum holding power of only 350mW.
The AZSR190 has a maximum UL and TUV switch rating of 100A@480VAC. It can also be used in higher voltage applications with an ability to switch 55A at up to 800VAC.
The AZSR190 has a contact gap of 3.6mm and a dielectric strength of 5,000 Vrms. Both relays' regulatory ratings are at 85 C operating ambient temperature. In addition to solar inverters, the AZSR165 and AZSR190 are also suited for electric vehicle charging equipment as well as for applications in industrial lighting.
Product Information
For more information about this product, please contact us.